What to Bring on a Hike:
To determine what you need to bring on a trek, think about how far you plan to hike, how remote the location is and what the weather forecast has in store. The longer and more remote the hike is and the more inclement the weather, the more clothing, gear, food, and water you're going to want.
These items should be on your hiking checklist:
Hiking backpack

Weather-appropriate clothing (think moisture-wicking and layers)

Hiking boots or shoes

Navigation: map, compass, altimeter, GPS device
Illumination: headlamp, flashlight, lantern, extra batteries
Sun Protection: sunglasses, sunscreen, lip balm, sun-protective clothes
First Aid Kit: including medication, bug repellent, and foot care
Gear Repair Kit: knife, multitool, repair tape, rope
Fire: lighter, matches, fire starter
Emergency Shelter: emergency blanket, bivy, tarp

Extra food Beyond the minimum expectation

Extra water Beyond the minimum expectation

Extra clothes Beyond the minimum expectation
Backpack & Storage
Backpack: Use a lightweight rucksack between 50L to 70L to carry your food, water, gear, and extra clothing while trekking should get the job done.
Ziploc Storage Bags: Great for storing things one doesn't need in the mountains (passport, smartphone), some kinds of food, or various small items you want to keep together.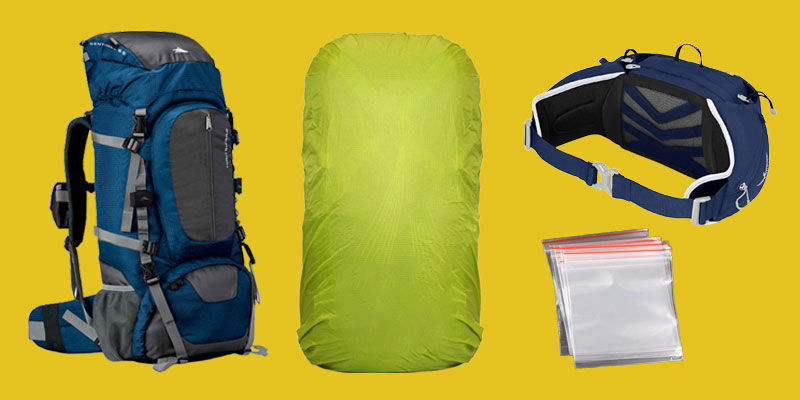 Hip pack: It's nice to have quick, easy access to snacks and supplies while trekking and strap-on hip pack before hitting the trail.
Pack Cover/Liner: Bring a waterproof pack cover or pack liner to keep all the gear inside your backpack safe and dry.
Clothing Checklist
Underwear, Sports Bra, Merino T-shirt, Long Sleeved Merino Top, Thermal Leggings, Fleece, Down Jacket, Waterproof Jacket, Waterproof Trousers, Hiking Trousers, Belt, Socks, Hiking Boots, Trekking Sandals, Gaiters, Hat, Gloves, Buff or Bandana, Sunglasses.
Tips for Hiking Clothes
When choosing your trekking clothes, try to avoid 100% cotton. When the pros say "Cotton kills," it's because the wetter cotton clothing gets, the more body heat you lose in cold and windy conditions. Opt for synthetic materials or cotton/polyester blends made from breathable and moisture-wicking fabric. They will pull sweat and moisture away from your body to the outer layer of the garment, keeping you dry and warm.
Layers:
Layering is key when it comes to hiking clothing, and no matter the forecast we pack our layers each and every time we head for the hills. This helps us regulate our body temperatures as we can easily take layers off or add extra ones depending on the weather and our own level of exertion. The key principles of layering are to have a breathable moisture-wicking base layer, an insulating mid-layer, and a waterproof outer layer.
Underwear: Ill-suited underwear can make your trekking day unpleasant in a hurry, so don't cut corners when it comes to choosing your skivvies. Pick a lightweight, breathable, and snug pair of athletic underwear (boxers, shorts, sports bra) that will wick moisture away and prevent chafing.
Long Underwear: When trekking in cold weather, bring a pair of long underwear to provide an extra layer of insulation for your legs. Conserving heat in your legs will regulate your body temperature and allow you to push on as temperature plummets.
Base Layers:
Short-sleeved t-shirts or long sleeve t-shirts are used as base layers for hiking most of the time.
Shirt/Top: Stock your trekking wardrobe with breathable athletic tops. It's essential to have a long-sleeve shirt, which gives protection against the sun, blocks wind and helps to keep warm when temperatures drop.
Pants/Shorts: Your trekking pants/shorts should be comfortable and unrestrictive. Avoid jeans or bulky slacks and instead wear breathable trekking bottoms that allow for a wide range of movement.
Insulating Mid Layers:
A light to mid-weight technical fleece makes a perfect mid-layer, adding warmth when needed while remaining breathable.
Light Jacket/Thermal: If you anticipate a chilly trek, pack a light jacket or thermal base layer to protect against the cold. You can layer this with your trekking top, rain jacket, and down jacket to stay comfortable as the temperature drop.
Outer Layers:
Waterproof jackets and trousers that are lightweight, non-bulky, and packable are a priority, but of course, they also have to keep us dry.
Winter Jacket: A packable, lightweight winter jacket is a must-have for trekking where wind chill temperature might dip close to freezing. The insulation layers in your jacket will help trap body heat and keep you warm when things turn nasty.
Waterproof Jacket: Have a lightweight rain jacket on hand if there is even the slightest hint of precipitation in the forecast. Getting stuck in the wilderness with no protection from rain can leave you vulnerable and at the mercy of the elements.
Waterproof Pants: If your day hike forecast includes the possibility of substantial rain, bring along a pair of packable rain pants to pair with a rain jacket. A solid set of rain pants can mean the difference between 'shivering, stumbling, and cursing' and 'dry, warm, and happy.'
Rain Poncho: Waterproof jacket starts leaking when continuous and heavy rain starts – especially in the shoulders area where pressure is high due to backpack straps. Therefore, carry a rain poncho and put it on when some heavy rain starts – it is also helpful when you have nowhere to hide and want to wait till the rain ends.
Socks: Hiking socks should be comfortable, breathable, and prevent blisters. Good quality, well-fitting socks are a must for avoiding blisters and hot spots. Always check that socks are sitting correctly (no bunching or twisted toe seams) before putting them to your boots to avoid rubbing.
Footwear: Together with a backpack, footwear is a very crucial part of your equipment. High leather boots are preferable because of the ankle support. But if you do sports, you should be good to go even with a lower and lighter boot. Hiking sandals are convenient in the evening so your feet can rest from the heavy boots and used when fording rivers.
Gaiters: If significant rain is in the forecast, consider packing a lightweight pair of gaiters — especially if your footwear isn't waterproof. Gaiters will block water and debris from entering the opening of your shoe, keeping your feet dry and undisturbed in the process.
Hiking Hat: A good hat will keep the sun out of your eyes, protect your skin from harsh UV rays, and tame your sweaty trekker hair. Wear a mesh-back trucker hat and use Buff or Bandana underneath to create earflaps whenever extra sun protection is required.
Winter Hat: During cold-weather trekking, body heat escapes from your head faster than any other part of your body. Pack a warm winter hat to help stabilize your body temperature, and you will expend less energy trying to stay warm.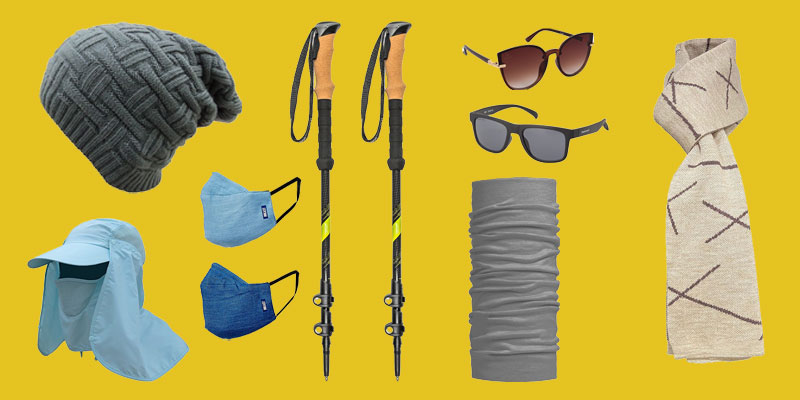 Buff/Bandana: It is multi-functional and a great bit of kit. Circle around the neck for warmth or sun protection, but it also comes in handy as a face covering in dusty conditions.
Face Wear: Constant exposure to the elements — wind, dust, rain, snow, and sun — can do a number on your face, so bring along some proper protection for your next trek. Multifunctional face wear will shield your face from almost anything nature throws its way.
Gloves: Trekking in cold weather with exposed hands can suck the fun out of your day, along with your body heat. It can also lead to hypothermia or frostbite in extreme cases. Protect your digits with a quality pair of waterproof gloves when chilly or wet conditions threaten your well-being.
Sunglasses: Bring a pair of polarized sunglasses to protect your eyes from harmful UV rays and prevent damage down the road.
Trekking Poles: For hikers, trekking poles are a godsend. Bringing a lightweight and sturdy set of sticks will give you two more points of contact with the ground and help ease the pressure off of your knees.
Food, Water & Purification
Pack snacks like energy bars, jerky, and nuts that you can eat on the trail. For water, you can usually start with about two liters per person for the day, but adjust the amount depending on the length and intensity of the hike, weather conditions, age, sweat rate, and body type.
Snacks: Snacks will be the fuel that keeps you going, so be sure to pack enough calories to sustain yourself for a long day of trekking. Bring calorie-dense, ready-to-eat foods like nuts, jerky, and meal bars that will keep you going all day on the trail.
Water: Staying hydrated is as important as consuming enough calories on your day hike. Bring enough water! Or purify as you go, providing there are reliable water sources along the trail. Consume at least one liter of water per two hours of trekking and even more on hot, strenuous, high-altitude hikes.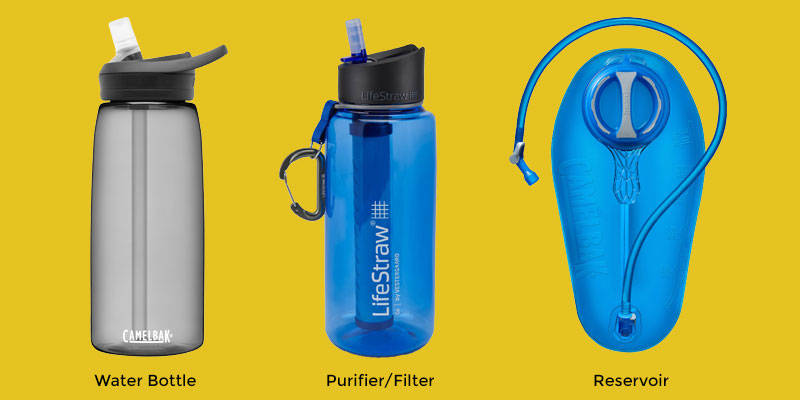 Water Purification: A lightweight water purification system is a good option for filtering as you go. Other options include using iodine tablets or zapping your water with UV rays. All these methods allow you to clean water sources in case of an emergency.
Water Storage: You'll need to carry liquids while trekking. Pick a water storage system that works for you. Large-volume hydration packs, insulated containers, collapsible pouches, or old water bottles — the choice is yours.
Navigation & Communication
Losing your way in the backcountry can be stressful and even life-threatening, so come prepared. Arm yourself with an accurate map (print or digital), a reliable compass, and the skills to stay on track even when the unexpected happens.
Map: Though many trails are simple to follow, always bring a detailed print map. Should you get lost or disoriented, a good topographical map will show you the contours of the land and guide you back to civilization.
Compass: If you don't know your direction of travel, a map alone might not be enough to get back on the right trail. Always pack a reliable compass — magnetic or digital.
Cell Phone: Many hiking purists choose to travel with only a printed map, but the truth is that smartphones can also be excellent tools for navigating the wilderness. Make sure your smartphone is equipped with GPS technology that doesn't rely on cell phone tower connections.
Power Bank: Your cell phone or other electronic devices won't do you much good if its battery dies, so pack a lightweight power bank to charge your phone or other rechargeable devices as needed.
Emergency Trekking Gear
Nobody ever intends to get into an emergency on a trek, but it's essential to come prepared for a worst-case scenario.
First Aid Kit: Prepare for injuries big and small, so pack a basic first aid kit for your trek. You can purchase a lightweight first aid kit or piece together one from your medicine cabinet.
Whistle: If you become lost or injured on your trek, a loud, piercing emergency whistle can attract & guide rescuers to you, even if they're miles away. Some trekkers keep their whistles close at hand, but many modern-day packs have whistles built into their buckles. Choose & learn your preferred method for summoning help in a potential emergency.
Lighter/Matches: Bring a lighter, matches, or a fire starter in case an emergency leaves you lost, injured, or stranded during your trek. The ability to start a controlled fire to signal for help or keep warm in the cold could be life-saving.
Multitool/Pocket Knife: Though you hopefully won't need to use one on your day hike, always pack a multitool or a pocket knife to help deal with the unpredictable. A basic multitool can repair gear, assist in first aid, make kindling, and prepare food in an emergency.
Head Lamp: If your trek stretches into the night, you'd better have packed a headlamp to help you find your way. A powerful light source can safely guide you down dark trails or can signal to rescuers for help if you're lost or injured.
Health & Protection
Take care of your body and the environment by packing the items needed to manage your primary health along the way. Items below will help protect you against sun, bugs, bacteria, and allergies, all while leaving no trace.
Basic: Mask, Toothpaste, Toothbrush, Shaving Kit, Towel, Biodegradable Soap Bars, Comb
Medication: Bring along an assortment of medicines, prescribed or otherwise, that you might need during trekking. If you have any allergies to food or medication, let your trekking partners know beforehand.
Sunscreen: Bring along a heavy-duty sunscreen (30 SPF or higher) to protect against the sun's powerful UV rays and prevent sunburns that can lead to skin cancer. Sure, trekking hats and UV-rated clothing often do well in protecting against UV rays, but they're not always enough.
Bug Spray: Insects can often overwhelm you, so bring some effective bug repellent if you anticipate pesky insects on your trek. By keeping mosquitos, ticks, and others at bay, you're protecting yourself from such harmful diseases as malaria and Lyme disease.
Chapstick/Lip Balm: Cracked, chapped, and sunburnt lips are common among trekkers but are incredibly easy to prevent.
Hand Sanitizer: Hand washing is cumbersome and not always environmentally friendly, so bring an alcohol-based hand sanitizer to keep clean while you trek. Always use hand sanitizer before you eat to neutralize any bacteria, parasites, or viruses that you may have encountered along the trail.
Toilet Paper: Always, always bring toilet paper on your trekking, even if you don't think you'll need it. And always pack out your TP and avoid burying it at all costs. Many brands of toilet paper have harmful chemicals that will be released into the earth when buried.
Photography Equipment
Though photography equipment isn't essential trekking gear, it will help to capture the stunning beauty you encounter along the trail.
Camera: While smartphones are the simple solution to capturing photos, a packable camera can take your photography to the next level. Mirrorless cameras are popular among trekkers and backpackers because they are compact and capture high-quality photographs. Don't forget to pack any extra lenses you might need to capture the adventure. Wide-angle lenses are great for capturing epic landscapes, whereas zoom lenses are better for long-distance photos of wildlife.
Tripod: Bringing a lightweight and compact tripod on your hike will make you a more versatile photographer in the wilderness. Tripods will help stabilize the camera, capturing more clear and vivid photos.
Waterproof Bag: Cameras and water don't play well together. You can use a Ziploc or a simple rolltop dry bag to give your photography gear the extra layer of protection it needs. Consider using a silicon lens cover to prevent lenses from fogging and accumulating water during especially humid conditions.
Common Stuff
These items are not essential for everybody – but at least somebody in your hiking group should have them.
Sewing kit: You will truly appreciate this one only after your trousers get ripped around the button the first day of your trek.
Duct Tape: Universal fixing tool. There are so many things in the world that can be fixed with the help of duct tape!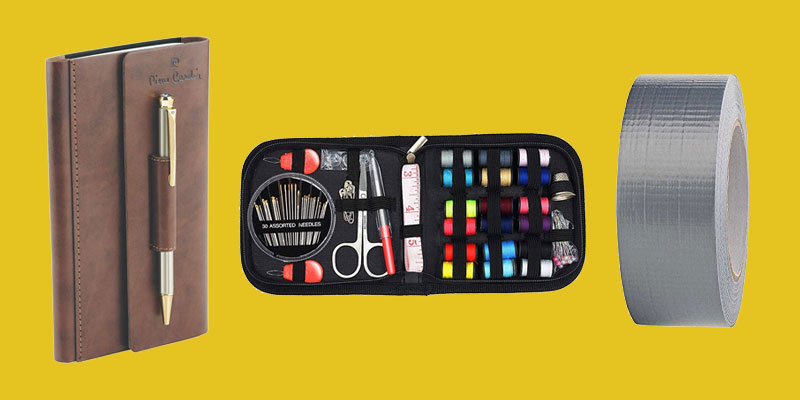 Outdoor journal with Pen/Pencil: While pen and paper are great for taking notes or doodling during your hike, their usefulness could help save your life in case of an emergency.